Find out how a GSM repeater works. You will see, the principle is very simple.
As the name suggests, a GSM repeater reproduces a signal identically. It "grabs" it in one place and "transports" it to another location that is more convenient for you.
1.How does it work?
Our system "captures" the signal where it is available and, via a cable, carries it up to the GSM repeater which amplifies it and then sends it to the indoor antenna, this time closer to your smartphone. Your handset will finally work normally where it did not work before. See here: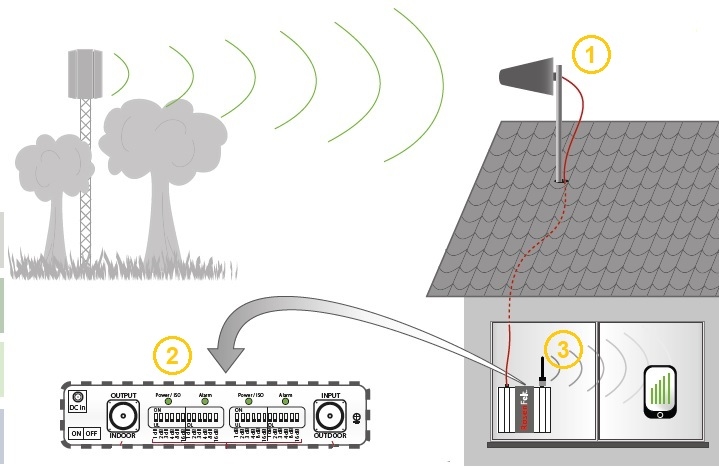 Illustration 1. Using a GSM repeater is like getting your operator's relay antenna closer to where you need it!
2.What are the different elements of the GSM repeater kit?
An outdoor antenna is responsible for receiving the signal (cell phone waves) from your carrier's relay antenna. There are several models of outdoor antennas.
The signal then circulates via the GSM coaxial cable (in red in the picture) and arrives at the GSM repeater which amplifies it and sends it to the internal antenna.
So the indoor antenna transmits it close to your cell phone. Again, there are different models of indoor GSM antennas, depending on the installation location and building characteristics.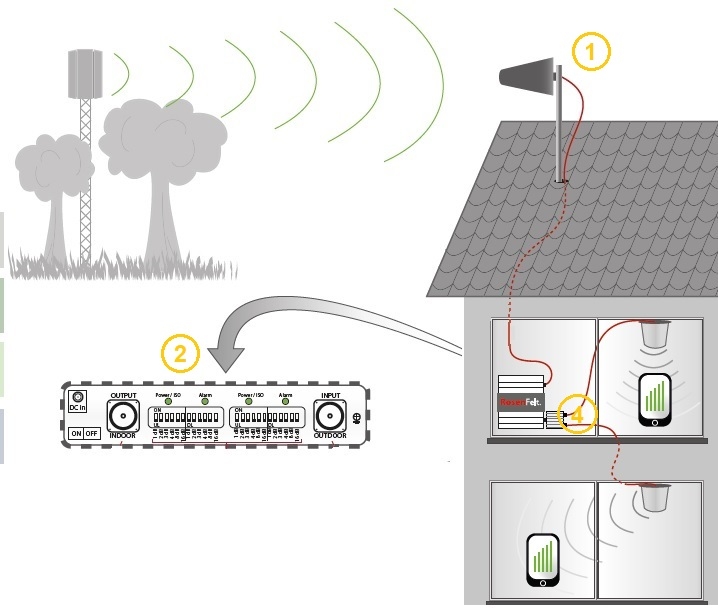 Illustration 2. Multiple indoor antennas can be connected on the same repeater.
3.Can we cover more spaces?
Of course. All of our repeaters can be installed for specific configurations. If your home has multiple floors or rooms, multiple indoor antennas can be installed on the same GSM repeater: Illustration 2. In this illustration, you can recognize the outdoor antenna

, and the GSM repeater

. And instead of a single indoor whip antenna

(nella figura 1 sopra), è installato un kit di estensione per due antenne interne

. (in Figure 1 above), an extension kit for two internal antennas is installed . This kit consists of a 2-way splitter , two cables and two indoor antennas . The waves picked up on the roof are always directed to the GSM repeater through the cable and then amplified. They then pass through a 2-way splitter, and channeled via coaxial cable to the indoor antennas. In this example, the GSM repeater works for two separate rooms, and several people can now call normally, without interference. Other extension kits are available, for 2, 3, or 4 indoor antennas. Everything is included: the splitter, coaxial cables, and indoor antennas. The kit is very easy to install as it is in the situation where you have only one internal antenna supplied with the GSM repeater.
4.Can the system be extended for very large spaces?
Again: no problem! The flexibility of our repeaters allows for all kinds of combinations. Whether you are setting up a 500 sq. m. hangar entirely in metal walls, a 20,000 sq. m. underground parking lot, or offices spread over several floors, REPEATER-GSM will provide you with the system that perfectly matches your needs. Get in contact with us and tell us about your project.
Our team will implement a custom study for a tailored installation that will permanently solve cell phone reception problems in your office or home.
PS. Many of our customers wonder whether this type of product is legal or not, drop by here! Legality requirements: European CE certification and RED directive.