Each GSM repeater can drive a maximum number of indoor antennas: it is a technical limitation of radio-electrical order. Exactly like the power strip we have in the hall: if I connect too many devices to it, the fuse blows. Same thing with a GSM repeater!
There are two main parameters that determine the power of a GSM repeater. First is the number of indoor antennas you need to effectively cover your environment. Then it is the distance to the radio base station that matters. Here is the information we need to know in order to make an easy choice.
Don't panic if this article seems too complicated, you can always count on us for free advice, write to us giving some coordinates about your situation and we will gladly give you a hand and help in choosing the right GSM repeater.
1.What surface to consider?
In each model of GSM repeater we indicate the area it is able to cover, in square meters.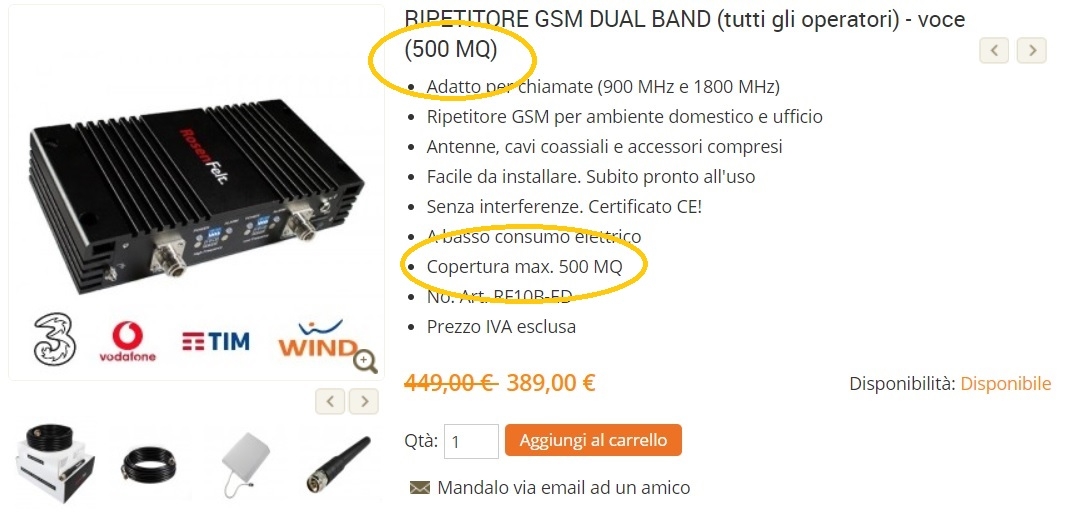 As with all radio-electrical devices (Wi-Fi router, walkie talkie, remote control,...) the area covered or the operating distance indicated are always "under optimal conditions", i.e. without interference, without obstacles, without special impediments (and it should be taken into account that, regardless of the power of the GSM repeater, a single indoor antenna reaches to radiate about 300sqm). It is obvious that each building, in reality, has unique characteristics, often to be evaluated individually. However, indicatively we can say that:
1 living room of 80sqm, adjacent to a 25sqm open kitchen, needs only 1 indoor antenna, as the total square footage is 105sqm and the space is open (American-style).
1 80sqm living room, adjacent to a 25-square-meter enclosed kitchen (with connecting door) needs 2 indoor antennas, as waves hardly pass the concrete and very little the door.
1 180sqm basement office with 50sqm reception on the ground floor requires 2 indoor antennas for the same reason.
3 offices on second floor, 30sqm each, adjacent, separated by panels + reception on ground floor 60sqm: 2 antennas, one on each floor, are enough.
2 canteens of 300 sq m each, with 1 common 150 sq m lobby and a separate 35 sq m office: 4 antennas are required for the total area (785 sq m).
As we have just seen, every case is different. And if the environment to be covered with the GSM repeater has a particular shape, the easiest thing to do is to contact us so we can analyze the floor plan together.
2.How much power for how many antennas?
You may have noticed, each of our GSM repeaters comes in a kit that contains the antennas, the outdoor and the internal antenna(s). To estimate the required power of the GSM repeater, we are first interested in the internal antennas. Secondly, we will also consider whether the distance from the operator's base station is such that it has any kind of impact.
A 1o dBm GSM repeater can drive 1 indoor antenna. The standard internal antenna of each repeater kit is a stylus type, but if you want you can customize your kit by opting for another type of antenna, for example, ceiling type.
This is the solution used, for example, in rooms with false ceilings, which allows the ceiling antenna to be installed in the center of the space to be covered, to ensure maximum coverage.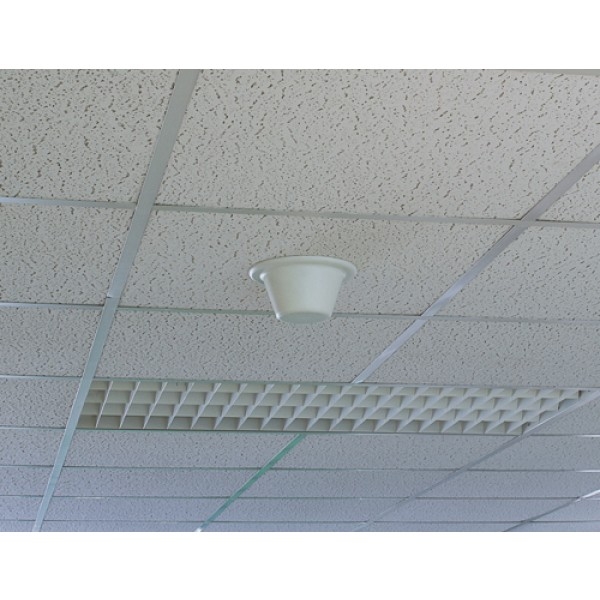 At home, it is a convenient way to get the device away from small hands (or feet!); safety first!
If your installation requires a set of 2 antennas, we recommend a 13 dBm GSM repeater. This power is sufficient to compensate for the signal loss that you inevitably have along the cable connecting the repeater to the antenna.
For a set of 3 antennas, the recommended power is 15 dBm, 4 antennas require 20 dBm and 23 dBm to handle up to 8 internal antennas.
As we said, the distance from the radio base station can also have an impact: the more considerable it is, the more powerful the repeater must be. And we will have to replace among other things the standard external antenna with a very directive antenna, the mythical Yagi Super (menu > customization > antennas for external use).
3.Summary table
Number of antennas
Recommendend
power
1
10 dBm
2
13 dBm
3
15 dBm

4 to 6

20 dBm
up to 8
23 dBm
4.How to know what power a GSM repeater has?
On the detail page of each repeater you can find this information, in the "More Information" tab as shown in the pictures below.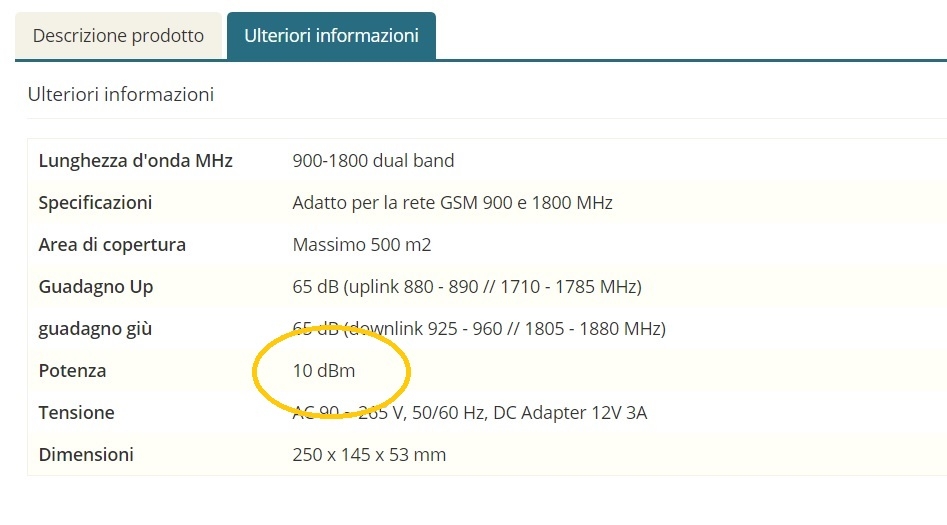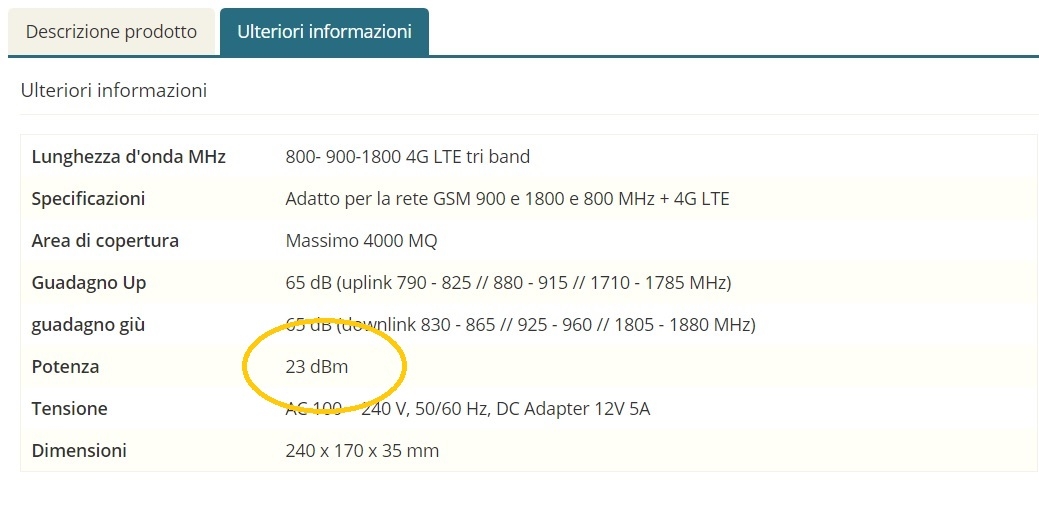 I hope this reading can be useful in some way and I still renew the invitation to write us a message with some coordinates about your project, so that we can give you some tailored advice. See you soon!