Before purchasing a GSM Repeater.
The problem is that we have little signal inside our home or office. A GSM repeater, otherwise called a signal booster, is what we need. But which one to buy? Before we jump into buying a GSM repeater, we need to have a clear idea
Just as, before we go to buy a new refrigerator, we take the measurements of the kitchen walls, similarly there are 4 essential pieces of information we need to be in possession of in order to figure out which GSM repeater is right for us. Below we quickly show you what they are.
1. Do I want a GSM repeater to improve calls and/or internet?
There are repeaters for calls and repeaters for calls + 3G internet or 4G internet. The latter handle multiple networks simultaneously and therefore have a higher cost. If we already have Wifi at home we can then keep the expense down and opt for a GSM repeater calls.
2. Which operator do I use?
Choose a GSM repeater that fits your operator by selecting the correct category from the green menu bar. If you use different operators in your family or office then you are interested in the "all operators" category.
3. How many notches do I have on the outside?
The notches on the phone tell us how far we are from our operator's radio base station (the broadcast tower). If we can only get 1-2 notches outside, we almost certainly need a more powerful external antenna than the one provided in the standard GSM Repeater kit. We will need to customize the kit(see below).
4. The size of the house (square footage and number of floors)
The square footage of the house and the numbers of levels tell us whether the indoor antenna provided is sufficient or we need to add more. Let's keep in mind that one indoor antenna handles at most 300 sq m and only one floor. If we have a two-story house of 500 sq m each, we will need 4 indoor antennas in all. Again, we will need to customize the kit with an extension set for indoor antennas.
Example: I have a 60sqm house on 1 floor and I am only interested in improving calls. I use Tim and externally my smartphone gets 3 notches.
5. When purchasing on GSM Repeater.

As you can see from the menu of our online store, you will first find two categories of repeaters:
GSM repeaters for Calls (1)
GSM repeaters for Calls + Internet (2)
Each GSM repeater, regardless of category, comes as a kit and has everything needed to function (1 outdoor antenna, 1 indoor antenna, 10m coaxial cable). This is the basic configuration for those who need to cover a room on 1 floor and with maximum square footage of 300sqm.
However, if we have special needs, for example:
we are in a rural area, the outdoor signal is very low and we need a more powerful outdoor antenna than the one provided, or
we have a two-story office so we need an extra indoor antenna for the second floor, then
ithe basic kit we can customize it (3).
With customization a part of the kit, for example the outdoor antenna, is replaced with its own variant, in this case a Yagi logarithmic directional outdoor antenna. We will pay only the difference in price, without unnecessarily receiving 2 outdoor antennas.
Another typical example of customization is to replace the indoor antenna (stylus type) with a ceiling-mounted antenna: many find it more aesthetically pleasing, plus this antenna radiates 360 degrees, so it is great for an open-plan office.
Customization is only possible in combination with the purchase of a GSM repeater. In other words, I cannot buy just one customization.
If I need a cable because mine broke, or after months of using my GSM repeater I think it might be a good idea to add an antenna, then I go to Accessories (4).
6. Shopping cart, payment, invoice, shipping
As we select the products we are interested in, we add them to the cart. At the top right, with the "My Cart" function, I have at all times the ability to check what I have put in there. If everything is correct, I proceed to checkout (or click Buy).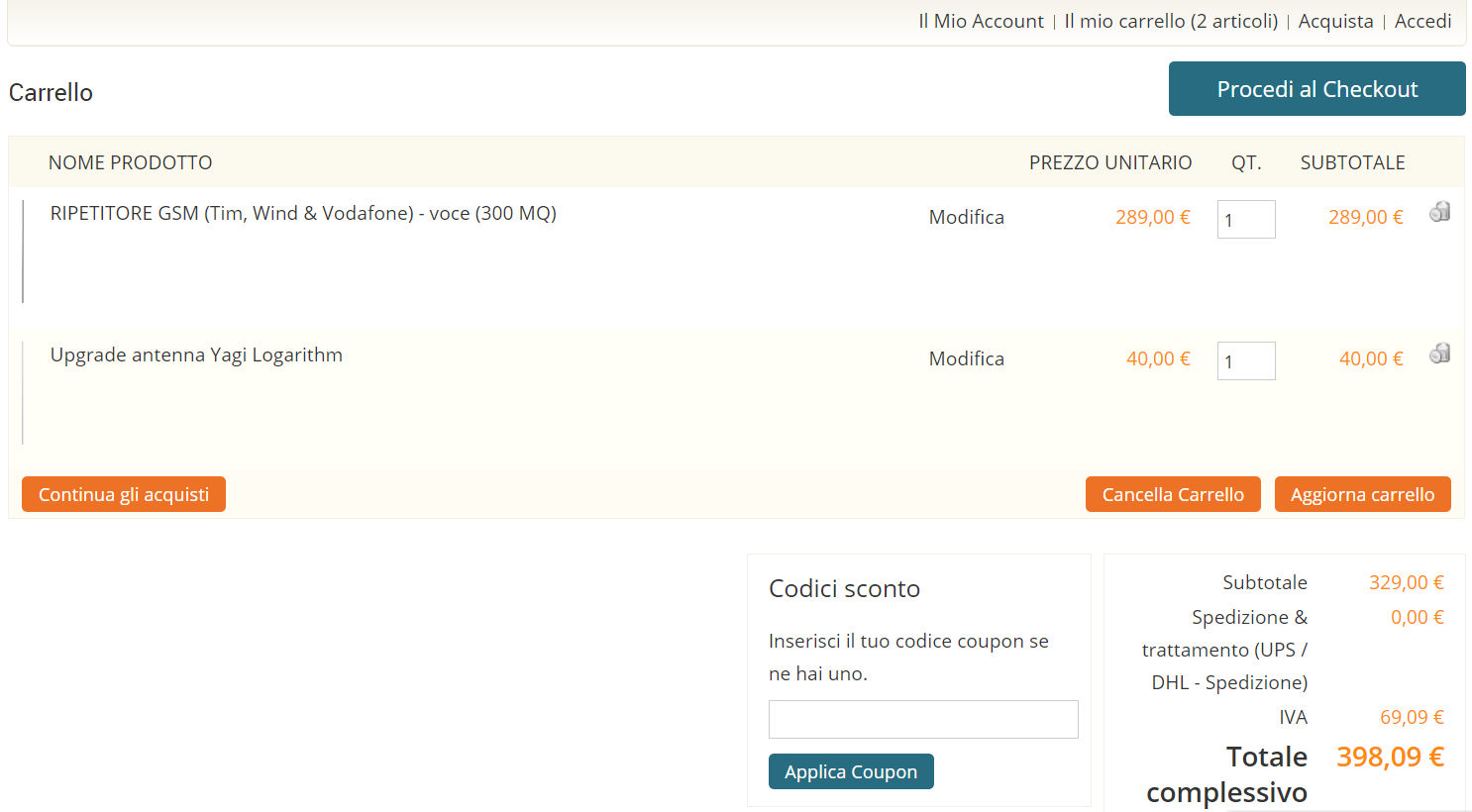 On the last screen, the payment screen, we enter our information, make the payment with the desired mode and then we will receive two emails within a few minutes: the first is an order confirmation, the second contains the invoice.
When the goods are shipped we will also receive a third email with the shipping document. From that moment, in 2-3 business days, we receive the goods.
Easy, right? On our Customer Service page you will find all this information in more detail within the general terms and conditions. If you have a last-minute need or concern, please feel free to use our Chat. We can help you or give you advice in real time. Happy shopping!