Some times, when we are confronted with customers, we notice some skepticism about relying on a booster kit, about why to opt for a GSM signal repeater:will it really work? Will it solve the problem only partially or totally? Will it only be a temporary solution? How complicated will the installation be? Actually, it is all simpler and clearer than you might think. We'll see below why it pays to rely on a GSM repeater when you are experiencing problems with poor or no signal.
First of all, one thing needs to be pointed out: when dealing with signal repeaters, it is important that they meet the requirements required by law in order to be used. In addition to the presence of the European CE certification on the products, they are required to meet the standards indicated by the RED/2014 directive. We have previously talked about the legality requirements for GSM signal repeaters. Without these requirements, these products are illegal and are not allowed to be used.
Because it is a niche product, there is often an aura of uncertainty hovering about how it works: it is not a product known to everyone, and therefore its ability to solve the problem is not always truly understood.
1. What is a signal repeater used for?
When, inside a building (be it a home, office, shopping mall or store, garage, tunnel or gallery, basement, cellar, attic, as well as a museum, theater, movie theater, and you name it) you experience problems with no or poor signal, which coincides with the fact that you can not make or receive a call, or at least that the call is of low quality (you hear poorly and poorly, drops the line) or even, that you can not surf the Internet (or if you can, the navigation is slow and often skips), the ideal solution always remains to install a signal repeater: signal is missing, SOS appears on the phone, emergency, we find ourselves having to go outside in order to resume conversation or search for something on the Internet. Nothing could be more inconvenient. What if, instead, we opted for an amplification kit that would allow the outside signal to be brought inside? Better yet: the role of a repeater is not simply limited to bringing inside the mobile signal received outside but does more, it boosts it, maximizes it, amplifies it (the phone will show 5 bars of reception) and makes it usable for an unlimited number of mobile devices (smartphones but also routers).
The operation is very simple, look at the image below: the outdoor antenna (1) picks up the signal sent from one or more transmission towers (depending on the signal to be amplified and the operators you are interested in), sends it via coaxial cable to the repeater (2), which is located inside the building, which repeater enhances the signal, improving it, and makes it available via one or more indoor antennas (3) for use by different mobile devices.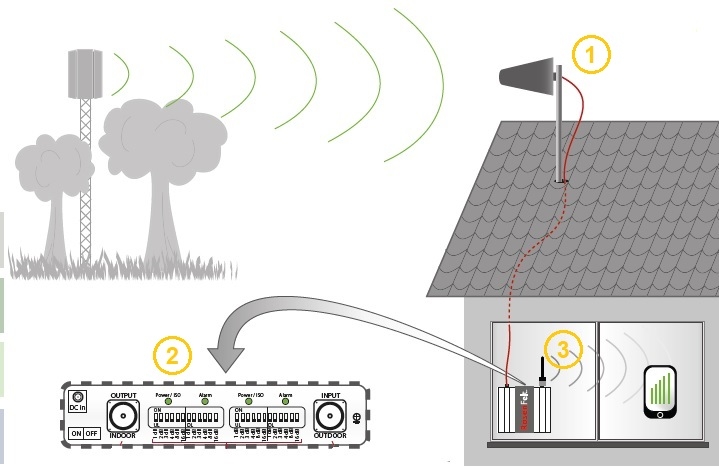 To learn more, check out this blog of ours where we discuss how a GSM repeater works.

Often, there is confusion in thinking that a signal repeater merely repeats the external mobile signal, which is why we like to use the word "amplifier" (which amplifies, boosts the signal) more than "repeater" signal. Here is the most correct definition Wikipedia gives regarding the definition of repeater.
2. How long does it last?
It is also not a temporary solution as many people think. In fact, there is no expiration date in its use, you do not have to pay any monthly fees, you simply bear the expense due to the purchase of the repeater and nothing else: once a signal booster is installed, besides the fact that the improvement will be immediate, it will work the same way, and with the same results, forever. Or at least until the current 2G, 4G and 5G technologies are decommissioned.
The only problem might be if a particular transmission tower, toward which the outdoor antenna is directed to pick up the signal (and then transmit and boost it inside the building) is decommissioned due to the specific interests of one among the telephone companies: at that point it would only be necessary to change the direction of the antenna to a different tower, and for that you know that we are at your disposal in finding the most appropriate tower to hook up to. Simply contact us for the resolution of your problem.
3. How do you install a GSM repeater?
Finally, about the installation: believe us, there is nothing simpler than installing such a repeater! It is nothing more than connecting a few accessories together, what you will need will be:
Simple isn't it?
Ah, we were forgetting an essential detail: keep in mind that, in case the product is not to your liking, you can always return it (within 14 days of receipt) even without a reason, enjoying the right to withdraw. In addition to the 2-year European warranty of course, which is always valid.
What are you waiting for? Contact us for more in-depth advice, we remain at your disposal in clarifying as many doubts as possible.